Have you ever walked into a room and noticed the odd placement of someone's TV? It can affect the entire aesthetic of the room. Sometimes the wrong size or location can look downright ridiculous. When decorating your living space, the placement of the television is crucial to a harmonious room design. Most people don't realize there are a few rules to follow to ensure it's proper placement and installation.
Room Aesthetics
The first thing to consider is viewing convenience. The television should be viewable from any seat in the room when possible. So assess the furniture layout and try to figure out the best location.
Keep lighting and windows in mind, as the daylight can produce a terrible glare and affect you viewing. You can always remedy the problem with proper window coverings, like black-out drapery, but it is something to keep in mind.
Realize that the television usually becomes the focal point in the room. If you are against having a big black square as your focal point, there are programs that turn your television into an art piece! It's like a screen saver that stays projected, and it is available on most smart TVs.
Proper Distance
In general, for the most popular TV sizes up to about 55″, seating should be about 8 or 9 feet away from where you are sitting.
There is a general rule of thumb: the recommended distance for viewing is 2.5 times the diagonal length of the TV. With high definition TVs, 1.5 times the length of the TV might be more appropriate.
Mounting Height
It is tempting to put the television at eye level when standing, but it should be at eye level when seated.
Armor Mount and Sanus, two different sellers of TV wall mounts, state the following in their own respective publications:
"Note that most people mount their TV too high, such that they are looking upward at their TV. This is to be avoided as it will cause neck strain."
"More times than not, people end up mounting their TV too high which can ultimately lead to a poor TV viewing experience."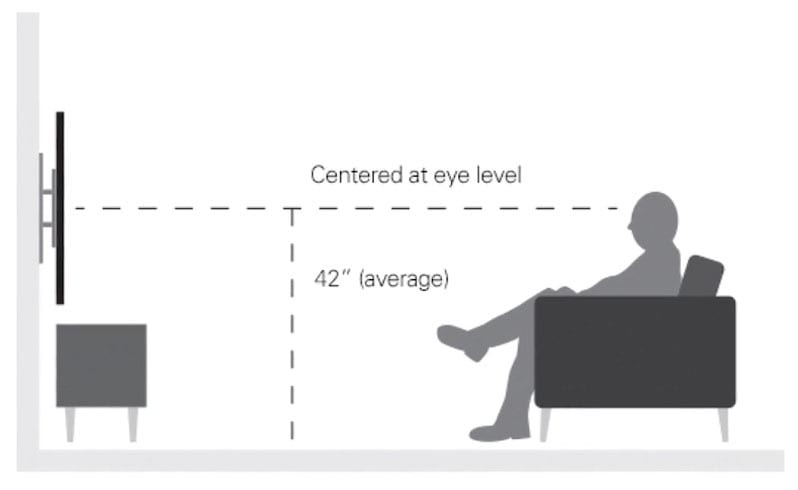 With this in mind, it is best to avoid hanging the television high on the wall in an effort to line up with paintings or other wall art in your room.
Also, positioning the television above a built in fireplace is not recommended because it is usually too high. Many people do this because they think it looks good and makes one focal point, but it is ergonomically incorrect.
The height of the bottom of the TV from the floor will largely depend on your TV size. As a general rule, the center of the television should hit about 42 inches up the wall. To determine where the top of the TV will hit, divide the TV's height by half. Add that number to 42, and you have an idea of where the top of the television will land.
You can make a cardboard template to see how it will look beforehand.
Wall Mount or Television Stand?
This is a matter of personal preference. Tying your TV into your room design can be accomplished many ways. There are so many options. There are both modern TV stands and rustic credenzas, and everything in-between. Choose what fits in with your room décor and it will help incorporate the television into your room design.
Regardless of whether you hang you TV on the wall, or put it on a stand or console cabinet, you should still follow the height rules as close as possible.
If you decide to hang your television, still consider putting something underneath for aesthetic reasons. Also, the extra storage area it provides will hide the TV console, cords, etc. Some good options are a low armoire, wall unit, media chest, or TV stand.
I hope these tips help!